! fredf.html !>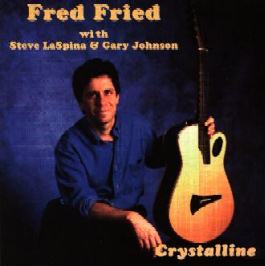 FRED FRIED Jazz Guitar
"Crystalline" & "Out of my Dreams"
Available on:

---
FRED FRIED, one of the few masters of the seven string guitar, showcases his improvisational and chordal skills on two releases available here: Crystalline and Out of my Dreams.

Crystalline, released on Rush Records, is an impressive collection of Fred's originals. His quiet chording and melodic approach is moderated by a swinging rhythm section comprised of Steve La Spina on bass and Gary Johnson on drums.

It is not hard to capture the essence of this man's music - space, counterpoint, and interaction are the trio's hallmarks, rare qualities indeed when compared to the proliferation of quitarists with too many chops for their own good! On many tracks Fred can be heard humming along with his solos, showing that his music comes from within, not just from his fingers.

On Out of my Dreams, from Ballet Tree Productions, Fred puts his signature spin on some tunes infrequently heard in a jazz setting, such as "Old Friends" by Stephen Sondheim. Once again he is joined by La Spina and Johnson, performing introspective interpretations deep into the standard repertoire.
---
Crystalline "This aptly titled album features seven string acoustic guitarist Fred Fried and friends Steve La Spina and Gary Johnson. Whether it concerns single notes or chords, the leader's sensitive, spacious, modern phrasing, which judiciously incorporates virtuosic displays, sets him leagues apart from other players who haven't yet learned that guitarists should take a breath now and then."
Jim Ferguson - JAZZ TIMES

"Fans of fingerstyle jazz guitar have plenty to celebrate with Fred Fried's new release, Out of my Dreams. Mixing delicate harmonics, stinging seconds, smooth contrapuntal lines, and introspective Bill Evans-like clusters, Fried paints airy, acoustic colors with a supple touch. His chosen ax, a custom Wescott 7-string with a Kasha-type soundboard and offset soundhole, positively shimmers. Well supported by upright bass and drums, Fred puts a pastel spin on cool standards.
Andy Ellis - GUITAR PLAYER

"Much more satisfying is the debut recording of an impressive new solo guitarist, Fred Fried, a student of George Van Eps who, like his teacher, plays a seven-stringed guitar and ranges adroitly through the instrument, mixing single-string lines, chorded accompaniment, and complementary bass lines. His harmonic conception is very much up to the moment, Fried acknowledging an indebtedness in this area to the late Bill Evans. The repertoire he explores so effortlessly and interestingly includes Herbie Hancock's Dolphin Dance, Henry Mancini's Two For The Road, Stephen Sondheim's Night Music, Burton Lane and Ralph Freed's How About You, and six appealing originals. The idiom is so demanding that there's not a great deal of free improvisation to Fried's playing here, which of necessity consists of carefully devised set-pieces. But he plays them beautifully and draws, with deceptive ease, great resources of deeply felt and flawlessly played music from his gently amplified instrument. Fried's off to a great start."
- DOWNBEAT

"Fred Fried has answered the fifty year old question: What direction will the art of & string playing go after George Van Eps?" Fried is a master improviser, weaving single lines with chords or playing two lines together. His pianistic approach to playing and composing make him unique as a jazz guitarist as well as a jazz composer. His music is 'ear opening,' sophisticated, beautiful and swinging. Once you hear Fred play just a few notes you will always recognize him."
Robert Yelin - JUST JAZZ GUITAR

"Fried has chosen the mellow setting on Out Of My Dreams, very unassuming performances with exquisite guitar work. His playing is very accurate, no fumbling or glossing over notes, nor is there a propensity towards speed for the sake of speed. The performances here are very muted, very subdued, hinting at romantic settings, perfect for candlelight dinners for two."
- CADENCE
---
Originally from New York City, Fred Fried spent five years in Los Angeles where he was fortunate to study with the great George Van Eps, the father of the seven string guitar. "George," states Fred, "got me thinking about the guitar in more pianistic terms and helped me greatly in acquiring the technique I would need to play music the way I heard it."

Returning to New York, Fred performed for four years at the top of the World Trade Center (Windows on the World) in Manhattan with the Judd Woldin Trio. Later, he was featured at Rockefeller Center's Rainbow Room, both as a solo guitarist and with a quintet. Also, while in New York, he led groups in and around the metropolitan area at such places as Gregory's and Byrdland.

Musicians and singers Fred Fried has appeared with in New York and Los Angeles include Art Pepper, Derek Smith, Marty Napoleon, Jay Leonhart, Mike Formanek, Perry Como, Barbara Cook, Helen O'Connell, and Tony Martin. In L.A., he was a featured soloist with the Alf Clausen Big Band. In New York, he was one third of an unusual trio, Threeba, which included the tubist of the Empire Brass Quintet, Sam Pilafian.

He played a number of solo concerts while in New York, one as part of the Greenwich Village Jazz Festival and another at Weill Recital Hall at Carnegie Hall which was produced by the American Institute of Guitar. In another concert sponsored by the American Institute of Guitar, Fred performed with guitarist Gene Bertoncini.

Fred currently resides in Cape Cod, Massachusetts, where he finds the atmosphere particularly conducive for playing and composing. Since moving to the Cape with his wife Barbara, Fred has played with some of New England's finest jazz musicians: Dick Johnson, Gary Johnson, Lou Colombo, Ruby Braff, Dave Mckenna, Greg Abate, Bill Davies, Billy Marcus, Bob Nieske, Matt Gordy, Kenny Wenzel and singer Shawnn Monteirro just to name a few. He has been featured twice in articles in the Cape Cod Times and recently in an article in the New England Jazz News.
---
Songs
C R Y S T A L L I N E
  LITTLE MIRACLE
  WHEN THEY TOOK THE SKY
  LAKE OF THE COHEERIES
  NANETTE                 
  B'S TIME IN THE MORNING
  THE WAY IT GOES        
  SASHAY
  CRYSTALLINE
  SONG FOR MARK
  THE VOICE WITHIN




O U T   O F   M Y   D R E A M S
  THE SECOND TIME AROUND
  I LOVE MY WIFE
  OLD FRIENDS            
  ALFIE
  OUT OF MY DREAMS       
  AFTER YOU
  THE MUSIC THAT MAKES ME DANCE
  ALMOST BLUE

---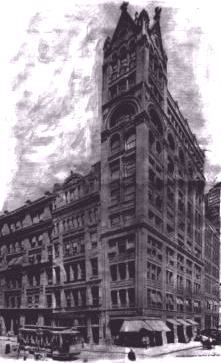 (C) Changing Tones. All rights reserved.
E-mail us with questions or comments.
Page design by MacIntyre Music