! toddmyrs.html !>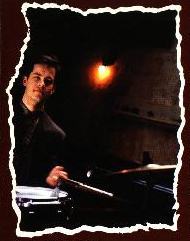 VOYAGE
Jazz from the TODD MYERS QUARTET
Available on:

---

"The first time playing with Todd was a swinging time. He has a conscious mind for keeping the time steady and always swinging. Todd is soon to be a major influence on Jazz musicians of the future."
. . .Jaki Byard
"If you close your eyes you can hear a little of, Elvin Jones, Roy Haynes, Art Blakey & Jeff Watts, but Todd still brings his own sound to the drums."
. . .Earl Turbinton
"Archie Shepp's Quartet was driven by the hard swing of drummer Todd Myers."
. . .Rainer Bratfisch Berliner Zeitung, Germany
"a loose group of soon-to-be important Musicians."
. . .Peter Watrous, NY Times
"Myers, a drummer, leads a band of neo-boppers who prove that mature players need not be old"
. . .Deni Karsel, JazzTimes
"Their Sound is a fresh, vivid and sharp: so called 'Neo four-beat' Jazz"
. . .Jazz Life, Japan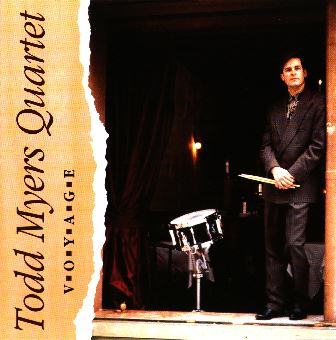 The TODD MYERS QUARTET is:
Todd Myers: Drums
Carlos McKinney: Piano
Steve Wilson. Alto Saxophone
Rasmus Lee: Tenor Saxophone
Jesse Yusef Murphy: Bass
Johannus Weidenmuller: Bass

Recorded May 29, 1993 at Sear Sound, N.Y., N.Y.
live to two track on Panasonic SV-3700 Pro Dat
Steinway C - 7'6' played on all tracks
Steve Wilson appears courtesy of Criss Cross Records
Todd Myers plays Sonorlite drums


Produced by Todd Myers
Engineered and Mastered by Frederic Kevorkian at Sear Sound
Photography by Barry Michlin
Cover Designs by Eileen Byrne
---
PERFORMANCES
check out Todd's performance dates on the Changing Tones Event Calendar.
Comedian Lea Deleria: U.S. tour
Fall 95: Archie Shepp Quartet European Tour
Berlin Jazz Fest '95: Live TV broadcast
Pescara, Italy Jazz Festival '95
Summer, 1996 Japan Tour: Todd Myers Quartet with Japan's premiere Jazz pianist Makoto Kuriya
RECORDINGS
Jaki Byard Trio on Timeless Records
Voyage on Buzz Records, featuring Steve Wilson & Carlos Mckinney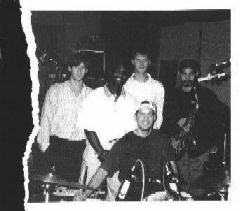 Special thanks to Mom @ Dad (S. & G.), Miles Davis, Art Blakey, Max Roach, Jack Dejonette, Carl Allen, Keith Copeland, Tony Williams, Royal Hartigan, Jim Hall, John Coltrane, Elvin Jones, Reggie Workman, Milton Hinton, Steve Wilson, Boom Restaurant, Dr. Martha Cortes D.D.S., and Eileen Byrne.

---
Songs

VOYAGE                          
MACK THE KNIFE
UPTOWN TRAVELER
WHAT IS THIS THING CALLED LOVE
CARAVAN                         
BLUES FOR YOU
YOU, THE NIGHT AND THE MUSIC    
BODY AND SOUL

All Songs (ASCAP) except Uptown Traveler - E'Jaaz Music Inc. (BMI)
---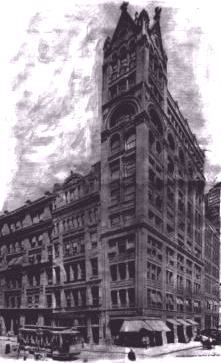 (C) Changing Tones. All rights reserved.
E-mail us with questions or comments.
Page design by MacIntyre Music